LOTE
At Hartwell Primary School, students from Prep – Year 4 have one 50 minute session of Italian per week. Spoken language is an important part of the Italian program. Students across all year levels engage in spoken language tasks during each Italian lesson, so as to build confidence, reinforce and recycle vocabulary in Italian.
Students in Prep are introduced to the Italian language and culture through stories about Pinocchio's adventures and other Italian stories and fairytales. They learn simple Italian words and phrases such as greetings, how to introduce themselves, including their name and age, numbers, colours, names of different foods and parts of the body.
Students in Years One and Two revisit previously learned language and continue to add to their repertoire of Italian language. Students are introduced to aspects of Italian grammar, such as 'masculine' and 'feminine' and pronunciation of Italian vowels and other sounds. They learn simple sentence structures enabling them to write a few facts about themselves in Italian.
Students in Years Three and Four continue to revisit previously learned language and add to their repertoire of Italian language. The main focus is on spoken language. Students engage in spoken language tasks regularly, focussing on the pronunciation of Italian words and are encouraged to practise at least once or twice a week at home. Students continue to explore aspects of Italian grammar, including masculine and feminine, nouns, adjectives and regular verbs. Students build on their knowledge of simple and interrogative sentence structures in Italian and work towards communicating a paragraph about themselves in both written and spoken forms.
The Mandarin program is available to Year 5 and Year 6 students. It aims to foster in students, an awareness and appreciation of the Mandarin language as well as the Chinese culture. Learning another language not only assists learners in developing literacy skills through listening, speaking, reading and writing, it also contributes to the social cohesiveness across other cultures.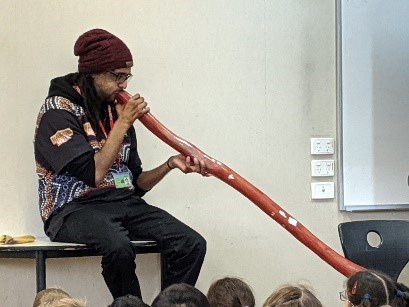 We hold a "Multicultural Day / Week" every year, where we recognise and celebrate diversity within our school community. The festivities include incursions where students watch and actively participate in a perfomance involving music, dance and story telling and they play various games originating from different countries. It's definately one of the highlights of the year!
Our students are very lucky to have the opportunity to explore two languages during their primary school years and we are privileged to equip them with the skills and knowledge needed for the future.